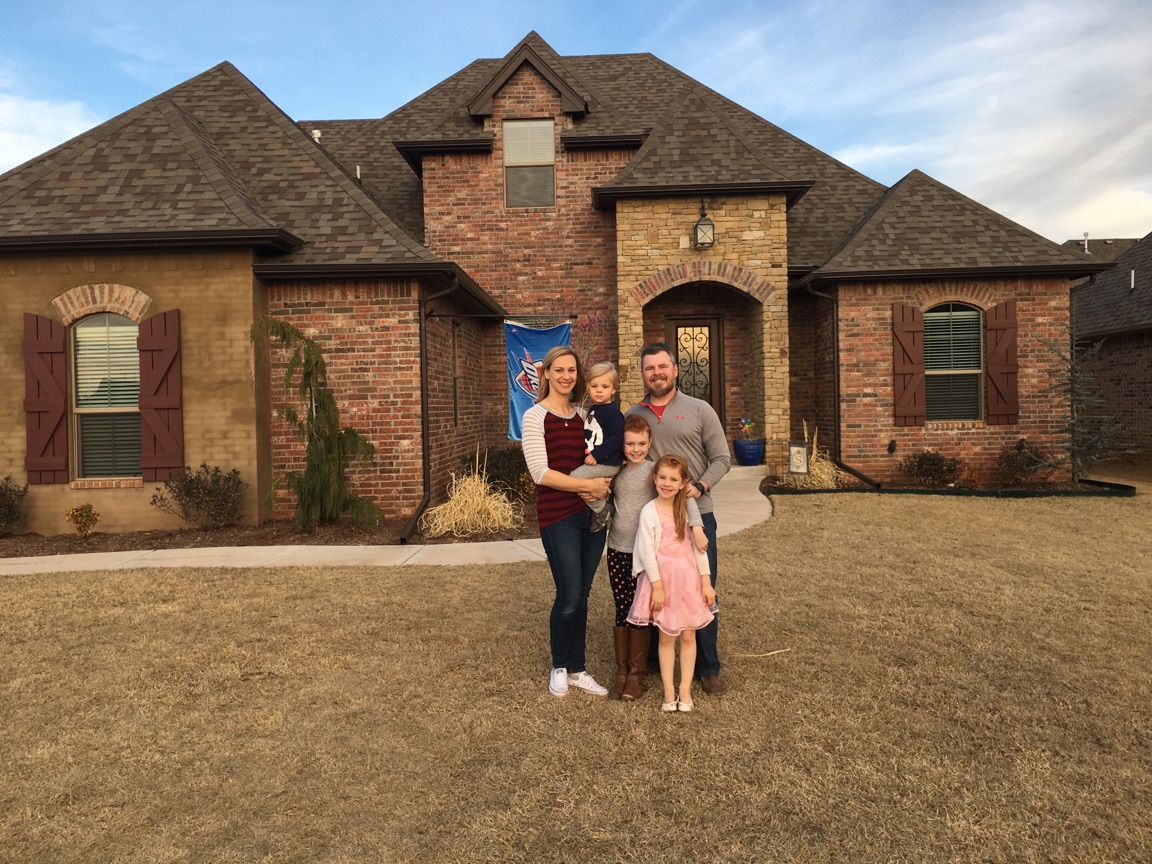 Cory and Kerry Shoemake
"Stephen Sharpe made our vision a reality."
When we began seriously discussing buying a new house, Stephen Sharpe was incredibly gracious in walking us through every question we had. His candor, knowledge, and professionalism were instrumental in our decision to make an offer on the new house. As the new home's construction was being completed, Stephen was terrific at listening to our thoughts and suggestions, and he guided the finishing touches to completely align with making our vision a reality. He remained available over the years for any questions and thoughts we had, and he and his family were terrific neighbors.
We do not hesitate to recommend Stephen Sharpe for any of your construction, renovation, or remodeling needs.
Steve Tulholski
"WE RECOMMEND HIM FULLY AND WITHOUT HESITATION."
We moved to Oklahoma in 2014, and after weeks of looking for a home in Edmond we were fortunate to meet Stephen.  After our first meeting, we immediately knew that he was the right person to build our home.  Over the next 3 months, we met with Stephen for every step in the process.  His professionalism and sense of design consistently exceeded all of our expectations.  Despite a very tight timeline to finish our home, we closed on time and with no problems.  Stephen's commitment to customer service is second to none, and we recommend him fully and without hesitation.
Darren and Shawna Romain
"STEPHEN CHANGED OUR PERCEPTION ON BUILDING."
Once we found out we would be moving back to Oklahoma, we wanted to stay in Edmond, however, we were unsure if we wanted to build again due to the shaky experience we had with a previous builder.  We decided to give it a second chance. Stephen Sharpe came highly recommended from friends and family.  Stephen changed our perception on building.  Unlike the other builder, Stephen is upfront, honest, and on time!  Stephen stayed in constant communication with us, while we were 1,500 miles away, answering all of our questions and sending photos as the work progressed.  He captured everything we wanted, down to the smallest detail.  Stephen set the bar high for any future home we encounter.  We won't hesitate to choose him again!
J.S.
"YOU WON'T BE DISAPPOINTED!"
Stephen built my house in Covell Village and I couldn't be happier. He was extremely easy to work with and was able to quickly make subtle changes to the home's design with amazing results. Stephen has assembled an elite group of professionals that can make your dream home a reality. I wouldn't hesitate to recommend Stephen to build someone their dream home or perform a remodeling job on an existing home. You won't be disappointed! 
Jay and Nicole Hochendale
"STEPHEN SHARPE PUT US AS EASE."
Our home search was mostly geared around buying an existing home until we saw a model home done by Stephen Sharpe.  He took time with us in the beginning explaining his process and answered every question we had and put us at ease that the home building process would be a breeze.  Stephen's commitment to communicating with us all along the way ensured a seamless process and a great home.  His attention to detail and knowledge of every aspect allowed us to make great decisions on customization.  Stephen's attention to detail stood out to us from the very beginning and he definitely delivered.  We would recommend Stephen to anyone building a home and we will use him again in the future if the need arises.
Renee Musgrove
"STEPHEN STANDS OUT ABOVE AND BEYOND OTHER BUILDERS."
I am a Broker Associate with Coldwell Banker Mike Jones Company. I was introduced to Stephen Sharpe in 2011 while showing Buyers in Covell Village. Stephen greeted us at one of the homes, was very hospitable and showed true pride in his craftsmanship while listening to the custom touches the buyers would want to add to the home that was still mid-construction.  He works very hard to be present during construction, keep in constant contact with his contractors and home buyers. He sends pictures during construction, keeping you updated as to the progress of your home and it is very apparent that he shares in your excitement of your new home. I know this first hand because he built my personal home in the Summer of 2016, he partnered with me to create a product that was my vision and his excellence in home building. I am in love with the outcome! It is my professional and personal opinion that Stephen stands out above and beyond other builders through both craftsmanship, professionalism, custom service and a general love of the craft that is displayed proudly in the very thing we call home.
Bill Van Zandt ~ OHC Supply
"HIS KITCHENS ARE ESPECIALLY AWESOME."
With over a decade of partnership working  as a valued supplier for Stephen Sharpe I really appreciate his professionalism and enthusiastic approach towards customer service. Stephen proactively works to source and select the classic but on-trend  finish styles for the doors, fireplaces, hardware, paint and flooring he uses in all is houses… his kitchens are especially awesome. Stephen's hands on approach to the building process creates a real team approach between his customers, valued suppliers like ourselves and his well vetted and reliable subs. All of these traits come together to build unique and quality homes that we are proud to be a part of. When I recommend a builder to a potential home buyer Stephen is at the top of the list.
Keith and Laura Ashcroft
"We love our Sharpe home!"
We love our Sharpe home! Stephen takes so much pride in his work and builds beautiful homes. He communicates so well from start to finish and has the best team of contractors, I would recommend any other builder than Stephen!
Bob and Lindsey Ault
"You can always reach him directly..."
Stephen gives you a unique experience during the home buying process. You can always reach him directly, and work through anything you need in person. Few builders offer you that access. If your looking for a good builder, Stephen needs to be on your shortlist.
Harvey Amin
"Stephen is a great guy. Very professional, very helpful..."
It was a great experience for us with Sharpe homes. Stephen is a great guy. Very professional, very helpful and extremely patient and welcoming! He spent with us all the time we needed and worked with us on every detail throughout the process! Needless to say the product itself (the house) is FANTASTIC! Great quality, elegant, and classy taste... the attention to detail is phenomenal. 
If you want to buy a house that you keep looking at every time you leave your driveway and go "DANG!" Thats a beautiful house! Go with Sharpe homes.
Not that I want to leave my current one whatsoever, but if I have to, my next house is with Sharpe Homes, hands down!
Chancellors - Kyle and April Denham
"HE ACTUALLY LIKES A JOB WELL-DONE."
Our Family has flourished in our new home, largely due to our successful efforts in working with Steven Sharpe to create a living space which truly satisfied our needs and wants. Sharing our experience with others about Steven is as easy as ABC and 123... let me elaborate:
A level-headed, tempered and passionate builder is who we came to know with Steven.
Because he strives to truly satisfy family needs, is why we've experienced nothing but positives in our new home.
Caring, respectful, and timeliness were Steven's characteristics which shined brightest for us.
1. He actually likes a job well-done, and expects nothing less.
2. Choosing contractors who share his devotion to job-done-right is all he works with.
3. A true Team Mate Steven was from our first visit with him... all the way through post-purchase.
He could be our Wing Man Anytime.